I've done a bit of reading whilst on leave (still partway through several others):

Jesus' Day Off by Nicholas Allan
My rating: 4 of 5 stars
Well this is very short, but recommended by a friend who wanted to remind me that I can slow down! Designed for kids, good for adults!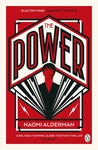 The Power by Naomi Alderman
My rating: 4 of 5 stars
There was plenty in this book to get involved in – in a world where women have all the power, this tells the story of how it started (so I'm guessing there's more that could come in another book). The author had support from Margaret Attwood whilst writing and a clear endorsement so no surprises that a few 'The Handmaid's Tale'ish type insights. Dystopian/utopian books have always been an interest of mine – imaging the world in a different way – jolts one out of the expectations of 'the norm' … but I was able to put the book down at points so …
Dietland by Sarai Walker
My rating: 4 of 5 stars
I was recommended this book whilst I was reading 'The Power', and it was one that certainly kept me reading fast. The insights into how miserable the diet industry are and how they keep women (in particular) trapped are no big surprise but well put across. The violence from a feminist activist group is a little terrifying but no different from many dystopian novels that imagine what would happen if the status quo were turned over – and women as objectified beings challenged by a group that stops the media sharing eg page 3. Interesting.