So in July I read:

Undivided: Coming Out, Becoming Whole, and Living Free from Shame by Vicky Beeching
My rating: 5 of 5 stars
I decided to download this book to read whilst on the quayside in Porto, having started with Just the sample as trying to resist buying more books!
I met Vicky probably in 2010 or 11 at Greenbelt – I'd invited her to be on a panel to talk about tech and faith – wondered why we had a bigger audience than at some of our other talks … knew nothing about her singing/writing career!! I enjoyed many of the conversations we've had since although I did wonder why Vicky's focus (and self description on Twitter) seemed to change frequently – this memoir gives an insight into how Vicky was trying to reconcile so many things and find a new path in life, knowing that a paid Christian music career was going to be closed to her once she came out as gay.
She is clear in the notes at the end that the theology in the book is 'light' to ensure readability and that it's more about her story, but I found the theological insights in the book made sense – interesting comparisons with sun/earth – which goes round which, and Christian attitudes to slavery and women – the second of which we still see for sure! There is a clear hope that the church and LGBTQ+ will come to similar decisions. I've not had to struggle with this particular 'issue', though I have moved away from believing it's wrong (as we were taught) within the Brethren Church (where women do cover their heads and men shouldn't have long hair – see 33% through book!) but there are other things that have gone on with my life so I nodded along at some of the struggles – especially to feel whole and loved 'as I am'. There's lots in here for everyone and although there's a lot of points at which one thinks 'people really say that – that's horrible', and in that sense NOT easy, it is a very 'easy' read for a wide audience.
As I wish for a more inclusive church for all, and for all of us to be appreciated as individuals – loved by God for who we are – this is a powerful memoir.
The Business Student's Guide to Study and Employability by Peter Morgan
My rating: 5 of 5 stars
I've wavered between giving this a 4-5 star, as I was sent a review copy to identify areas to update for a potential new edition – I have some comments but mostly I feel it works well. The book is written in an accessible style for students, covers a whole range of areas that can be tricky to teach (with theory, case studies, business application mixed in). I've used it in teaching, and would recommend it for anyone seeking to teach skills – especially in the first year.
Knit Two by Kate Jacobs
My rating: 4 of 5 stars
I really enjoyed the first book of these, and wanted something relaxing. I enjoyed re-meeting the characters, there's some difficult emotional stuff in there that makes it a little deeper than standard Chicklit … and I think the author's writing style and plotlines are stronger than the first too. I'm looking forward to book 3!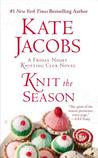 Knit the Season by Kate Jacobs
My rating: 4 of 5 stars
I enjoyed this as much as the other two books in the trilogy. Tired and just wanted something joyful to read … and there's a good few moral lines in there. You won't get everything you ever plan done, and as the author found when writing the book, sometimes it's more important to spend time with people than do work!
The Man Who Broke Into St. Peters by Chick Yuill
My rating: 5 of 5 stars
Well, I wrote the endorsement that appears on the back page of this book re Chick's previous novel as 'a page turner of a novel that I read in a single evening' – and here we are again – I've just read this in a single sitting too.
This book seems more obviously faith focused, but largely in that the characters and the painting at the centre of the story are faith characters – and it all feels natural to the setting. I cared about the characters, and what happened to them – there's some difficult storylines to read but important in contemporary times.
There's a debate about the balance of justice and forgiveness that emerges and I noted this quote 'Justice sets the world to rights, but forgiveness sets people free'.
I really enjoyed Chick's first fiction book, but I think this has even more depth to the characters (and profits from the book are going to 'For Refugees').
Altered Carbon by Richard K. Morgan
My rating: 4 of 5 stars
I had started watching the Netflix series and just got confused, but the book has clarified some of what I'd watched – so I'll go back and try again with the TV series! I always like a futuristic novel, and this is very cleverly written, with lots to it – so much that I kept forgetting bits and losing track a bit. Lots of sex and violence if you like that kind of thing, but a good few years after it was written this still all seems relatively plausible!